'Twas a cold night in Upper Marlboro, MD, 12 minutes after midnight on February 7th in the year 1981, when Nathan Charles DeBord came into this world kicking and screaming (in E minor).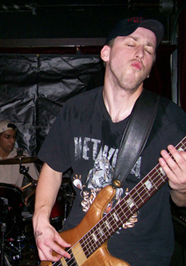 From a very young age, he could tell that music was more important to him than it was to most other people in his life. He grew up on classic rock and pop music but it wasn't until he received Alice In Chains' self-titled album, followed quickly by Metallica's that something really clicked for him. He liked the raw emotion of rock and roll and wanted to be a part of it as much as possible.

He started on the guitar at age 16 but went to bass a couple years later after figuring that he wasn't going to pass his two guitar-playing friends in technical ability anytime soon…one of those friends was Matt Bauer. The switch to bass meant an easier time for both Matt and Nathan to find someone to jam with so this lead to both of them playing more and more. Eventually thoughts of a band formed and they found singer/rapper Sheldon Brown…he was the first in a long line of musicians that would eventually lead to Stokley Rose. Nathan made his way to his 3rd different college, Berklee College of Music, in 2001 to pursue a career in the recording industry. When graduation came around, he had to make a choice between trying to keep the music dream alive with Matt or head to NY or LA to work for nothing, crash on people's couches, and eat nothing but bologna-on-hand sandwiches. The rockstar lifestyle sounded a lot more attractive so he came back home and, after a metal band, a blues band, and a reggae-pop band, the members of Stokley Rose finally found their way to each other.